Tiruchirappalli திருச்சிராப்பள்ளி (also spelt Tiruchchirapalli, commonly known as Tiruchi or Trichy திருச்சி; formerly also pronounced as Trichinopoly under British. It is the fourth largest city of the in the Indian state of Tamil Nadu (after Chennai, Coimbatore, Madurai)situated in the centre of the state, on the banks of the Kaveri River. The city is a City corporation, the administrative headquarters of Tiruchirapalli District.
Trichy encompasses Srirangam, the foremost Vaishnavite temple and the biggest functioning Hindu temple in the world. Trichy also encompasses "ThiruAnaikka" (ThiruvAnaikkaval), one of the five main abodes ("Panchaboodha Sthalam") of Lord Shiva. ThiruvAnaikkaval is the House of Water. Chandrasekhara Venkata Raman (Sir C.V. Raman) was born in Thiruvanaikaval and his house has been preserved as a museum.
The name of the town, "Tiruchirapalli", originated as a tribute (thiru in Tamil means respected) to a Jain monk called "Chira".[1] There is also a belief that Tiruchirapalli was named after a three headed demon "Trishira" (the son of Ravana) who performed penance at the Siva temple here and obtained boons.
Trichy is famous for the RockFort temple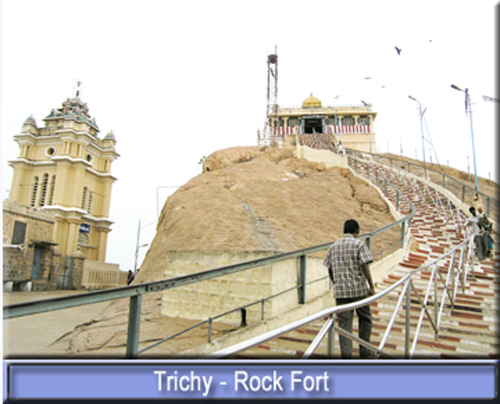 Community content is available under
CC-BY-SA
unless otherwise noted.