Official Website - http://www.sarvepalli.com -Autobiography of Dr. Sarvepalli Radhakrishnan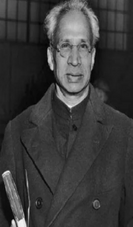 Sarvepalli Radhakrishnan (Telugu:సర్వేపల్లి రాధాకృష్ణ,Tamil:சர்வேபள்ளி ராதாகிருஷ்ணன்), (September 5, 1888 – April 17, 1975), was a philosopher and statesman.
One of the foremost scholars of comparative religion and philosophy in his day, he built a bridge between Eastern and Western thought showing each to be comprehensible within the terms of the other. He introduced Western idealism into Indian philosophy and was the first scholar of importance to provide a comprehensive exegesis of India's religious and philosophical literature to English speaking peoples. His academic appointments included the King George V Chair of Mental and Moral Science at the University of Calcutta (1921-?) and Spalding Professor of Eastern Religions and Ethics at Oxford University (1936-1939).
He was the first Vice President of India (1952-1962), and the second President of India (1962-1967). His birthday is celebrated in India as Teacher's Day.
Life and career
Sarvepalli Radhakrishnan (Sarvepalli is his family name, and Radhakrishnan his given name) was born into a middle-class family at Tiruttani, a town in Tamil Nadu, South India, 64 km to the northwest of Madras (now known as Chennai). His mother tongue was Telugu. His early years were spent in Tiruttani, Tiruvallur and Tirupati. His primary education was in Gowdie School, Tiruvallur, and higher school education in P.M.High School, Gajulamandyam, Renigunta. He married Sivakamuamma in 1904 at age 16 in Vellore. They had five daughters and a son, Sarvepalli Gopal.[1] He graduated with a master's degree in Arts from the University of Madras.
Radhakrishnan was elected the first Vice President of India in 1952.
He was elected as a Fellow of the British Academy in 1938.
He was awarded the Bharat Ratna in 1954,
References
External links