The Delhi Fort also known as Lal Qil'ah, or Lal Qila, meaning the Red Fort, located in Delhi, India and became a UNESCO World Heritage Site in 2007.
Location
The fort lies along the Yamuna River, which fed the moats that surround most of the wall. The wall at its north-eastern corner is adjacent to an older fort known as the Salimgarh Fort built in 1546.
History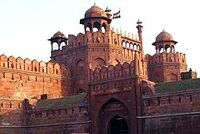 The Red Fort and the city of Shahjahanabad was constructed by the Emperor Shah Jahan in 1639 A.D. The layout of the Red Fort was organised to retain and integrate this site with the Salimgarh Fort. The fortress palace is an important focal point of the medieval city of Shahjahanabad. The planning and aesthetics of the Red Fort represent the zenith of Mughal creativity which prevailed during the reign of Emperor Shahjahan.
Control of
After Independence, the site experienced a few changes in terms of addition/alteration to the structures. During the British period the Fort was mainly used as a cantonment and even after Independence, a significant part of the Fort remained under the control of the Army till the year 2003.
Community content is available under
CC-BY-SA
unless otherwise noted.