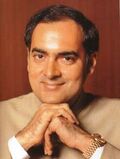 Rajiv Gandhi is one of the recipients of Bharat Ratna. It is the highest civilian award of India.
Early life
Rajiv Gandhi राजीव गांधी (Template:IPA2), was born in Bombay, in August 20, 1944 – and lived up to May 21, 1991. He is the elder son of Indira and Feroze Gandhi.
Official life
He was the 7th Prime Minister of India, (and the third from the Nehru-Gandhi family), on his mother's death on 31 October 1984 until his resignation on December 2, 1989. following a general election defeat.
He was the youngest Prime Minister of India (at the age of 40).
Personal life
Rajiv Gandhi was a professional Pilot for Indian Airlines (now Air India) before entering politics. While at Cambridge, he met Italian-born Sonia Maino who he later married. He remained aloof from politics despite his mother being the Indian Prime Minister.
Political life
I was only following the death of his younger brother Sanjay Gandhi in 1980 that Rajiv entered politics. After the assassination of his mother in 1984 after Operation Blue Star, Indian National Congress party leaders elected him Prime Minister.
Rajiv Gandhi remained Congress President till the elections in 1991. While campaigning, he was assassinated by a female LTTE suicide bomber Thenmuli Rajaratnam.
See also
Community content is available under
CC-BY-SA
unless otherwise noted.