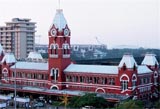 Madras is now known as Chennai, (Tamil: சென்னை) which is the capital of Tamilnadu a state in South India, today.
Loction
It is located on the Coromandel Coast of the Bay of Bengal.
Earlier
Madras was called as Madras Province which comprised earlier the south Indian states of Tamilnadu, Kerala, Andra Pradesh, and Karnataka.
The city of Madras was established in the 17th century by the British, who developed it into a major urban centre and naval base. By the 20th century, it had become an important administrative centre, as the capital of the Madras Presidency.
It has a Sea Port and International Airport (MAA).
Population
Chennai has an estimated population of 7.5 million (2007), making it the fourth largest metropolitan city in India.
Well known for
For many of us Madras is known for its madras curry paste or the masala.