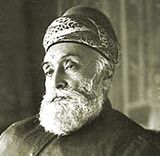 Jamshedji Nusserwanji Tata was born on March 3, 1839 - and lived up to May 19, 1904. He was a pioneer in the field of modern industry, in India.
Life history
He was born in Navsari, Gujarat, India. He was born to Nusserwanji and Jeevanbai Tata.
He founded what would later become the Tata Group of companies. Jamsetji Tata is regarded as the "father of Indian industry".
Early life
Nusserwanji Tata, his father, was the first businessman in a family of Parsi Zoroastrian priests. He moved to Bombay and started trading.
At the age of 14, he enrolled himself at the Elphinstone College. He was married to Hirabai Daboo, while he was still a student. He graduated from college in 1858 and joined his father's trading firm.
It was a turbulent time to step into business as the Indian Rebellion of 1857 had just been crushed by the British government.
Business
He worked in his father's firm till the age of 29. In 1868, he started a trading company with a seed capital of Rs. 21,000. In 1869, he acquired a bankrupt oil mill in Chinchpokli, converted it into a cotton mill and renamed the mill to Alexandra Mill. He sold the mill two years later for a healthy profit. Thereafter he set up a cotton mill in Nagpur in 1874. He christened it Empress Mill on 1 January 1877.
Legacy
The company started by Jamsetji Tata came to be known as the Tata Group and is today among the largest and most respected companies of India.
See also
Community content is available under
CC-BY-SA
unless otherwise noted.