Chakravarthi Rajagopalachari (Tamil: சக்ரவர்தி ராஜகோபாலாச்சாரி) (b. December 10 1878 - d. December 25, 1972), known as or Rajaji or C.R., was an Indian lawyer, writer, statesman and a devout Hindu . He was the second Governor-General of independent India. Later he became the Chief Minister of Madras State, and was one of the first recipients of India's highest civilian award Bharat Ratna (in 1954), the other two being Dr. Sarvepalli Radhakrishnan and Dr. C.V.Raman, all from the same state Tamil Nadu.
C. Rajagopalachari is one of the recipients of Bharat Ratna, the highest civilian award of India.
Brilliance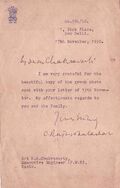 Please see his letter shown. He had gone to Nasik Congress meeting, when there was a click between Nehru and Tandon, to mediate. Knowing that Mr.M.S.Chakravarty was there he had sent word to him to keep some kodavallae(south Indian eatable)ready by evening as he will be coming to visit him. MSC, being a very obedient British Govt.Servant had no photograph of even Mahatma Gandhi. He immediately arranged for sofa and photographs of Mahatma Gandhi, Nehru etc.
As soon as he came in the evening and before sitting down on the sofa, he remarked "this has been made for the occasion". This shows how observant and intelligent he is.
A photograph was taken on that occasion, a copy of which has been sent to him. The letter shows the Ack. by him.
Nehru wrote about Rajaji in his autobiography of how Rajaji's "brilliant intellect, selfless character, and penetrating powers of analysis have been a tremendous asset to our cause". Rajaji's intellect and political acumen is often compared with that of Chanakya.
With the Congress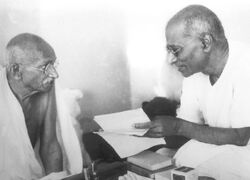 Rajaji started to take part in the politics of the nation at the beginning of the 1900s. At first he was drawn towards Bal Gangadhar Tilak. He had a good relationship with V. O. Chidambaram Pillai, an ardent follower of Tilak. During the Home Rule League days he admired Dr. Annie Besant and he highly revered Salem C. Vijayaraghavachariar, one of the founders of the Congress Party.
In the year 1919 Rajaji chose to follow Mahatma Gandhi, who had just returned from South Africa. In the year 1921, Rajaji was selected as the General Secretary of the Congress Party and he came into close contact with Jawaharlal Nehru, Vallabhbhai Patel, Maulana Azad,Anugrah Narayan Sinha, Rajendra Prasad etc. and began to gain stature in the party.
See also
External links
Community content is available under
CC-BY-SA
unless otherwise noted.