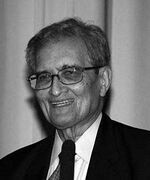 Amartya Kumar Sen CH (Hon), (Bengali: অমর্ত্য কুমার সেন Ômorto Kumar Shen), is one of the recipients of Bharat Ratna.
This is the highest civilian award of India.
Credits
He is an Indian economist, philosopher, and a winner of the Bank of Sweden Prize in Economic Sciences (Nobel Prize for Economics) in 1998.
Academic credits
From 1998 to 2004 he was Master of Trinity College at Cambridge University, becoming the first Asian academic to head an Oxbridge college, in addition to other important assignments.
He has given lectures to senior executives of the World Bank as well.
He is a former honorary president of Oxfam,
Education and career
Sen was born in Santiniketan,West Bengal,on 3 November 1933, the University town established by the poet Rabindranath Tagore, another Indian Nobel Prize winner.
Sen began his high-school education at St Gregory's School in Dhaka in 1941, in modern-day Bangladesh. His family migrated to India following partition in 1947.
He was first a Professor of Economics at Nuffield College and then the Drummond Professor of Political Economy and a Fellow of All Souls College), London School of Economics, Harvard and was Master of Trinity College, Cambridge, between 1998 and 2004.
In January 2004 Sen returned to Harvard.
Indian assignments
In May 2007, he was appointed as chairman of Nalanda Mentor Group to steer the execution of Nalanda University Project, which seeks to revive the ancient seat of learning at Nalanda, Bihar, India into an international university.
Home and Family
His ancestral home was in Wari, Dhaka in modern-day Bangladesh. Rabindranath Tagore is said to have given Amartya Sen his name ("Amartya" meaning "immortal").
Sen's maternal grandfather Kshitimohan Sen was a renowned scholar of medieval Indian literature, an authority on the philosophy of Hinduism and a close associate of Rabindranath Tagore in Santiniketan. Sen's father was Ashutosh Sen and mother Amita Sen who were born at Manikganj, Dhaka.
See also
List of Bharat Ratna recipients
Community content is available under
CC-BY-SA
unless otherwise noted.