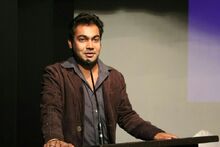 Abhishek Agrawal (अभीषेक अग्रवाल) is a first-generation entrepreneur, columnist, speaker and an author. Born on 16 July 1991, in Bhilai, Chhattisgarh, India, he did his schooling till class 10th from Rajkumar College, Raipur and completed his high schooling from Krishna Public School Bhilai. He did his graduation in B.com from St. Thomas College Bhilai.[1] After completing his graduation he moved to Mumbai to become a Scriptwriter and a film director and there he is pursuing his master's degree from Mithibai College, Mumbai.

Abhishek is the author of two best selling novels '[2] (2011) and ForGetting The Unforgettable (2013). Both the books have remained best sellers since their release. He is the youngest author from the state to have won two national awards and the author of two bestselling novels.[3] Abhishek writes op-ed columns for popular English and Hindi newspapers including Mahakhabar and others focusing on youth, career and issues based on national development. Abhishek voices his opinion frequently at leading events. Both of his novels were inaugurated by Anurag Basu, Film Director of Barfi. His book occupied a space in the shelf of Asia's Largest Poem Library, "Vagarth" Bharat Bhawan, Bhopal (M.P.).[4] On July 2013, he became the Associate member of Film Writers Association, Mumbai to dedicate his work towards Bollywood.
Early days
He was born in a Marwari (Agrawal) family in Bhilai where his father Mr. Ashok Agrawal is a businessman and his mother Mrs. Anita Agrawal is a housewife. He helps his father in his business and his day-to-day activities.[5] He also helps his mother in various house hold works as well. He has one younger sister named Rishika.[6]
List of works
Books
Sorry For Loving You, 2011
Forgetting The Unforgettable, 2013
Ek Chahat Adhuri Si, 2014
Completely Incomplete, 2016
The Day After My Death, 2021
Epistolary Novels
Zero Miles To 7 RCR
Article 52
Custodians Of Currencies
Jersey No 10
Codex Eminence India
Cinepedia
Columns
Abhishek has his columns in Mahakhabar Newspaper and has written many journals for magazines and newspapers. His articles are regularly posted under the title 'Hello Youth' [7]
Author
In June 2011 his debut book, (2011) chronicling his journey throughout the society, Love, Friendship and Betrayal was published by Mahaveer Publishers which soon became a national best seller.[8][9] The novel has 28 chapters dealing with the desires, aspirations, hopes, misconceptions, doubts and true lies of youth life.[6] The Hindi translated edition of the book is titled "Ek Chhahat Adhuri Si" and was releasd on 5th feb 2014 in a grand function held at Mithibai college which was inogurated by Dr. D B Gadkari Principal Mithibai college & Dr. Suresh Wakchaure Vice Principal Mithibai College Mumbai.[10] The book is also being translated in Punjabi, Marathi, Gujarati and Kannad.[4] His second Novel ForGetting The Unforgettable (2013) was a dedication for all those who have lost their near and dear ones in 1993 Mumbai Bomb Blasts.
Direction
On July 2013 he became the Associate member of Film Writers Association,  Mumbai to dedicate his work towards Bollywood .  He had its own Production house named " Movie Miles Production "  to complete his vision of becoming a Film Director. 
Photography
Passion turned into profession, Abhishek is fond of photography.  He has submitted his shatter to many contest and get praised for his work. 
Speaker
Among his other activities, Abhishek is known to deliver speeches at programs organised by newspapers and media houses. Mahakhabar and other conclaves apart from writing columns for the same.[7]
Awards and recognition
Honored as Jewel of Agrawal Samaj in the year 2012
Nominated for Navlekhan Award in October 2012[3]
Honoured as "The Asset Of Mithibai College Mumbai" on 5th Feb 2014 [10]
Listed as "Top 10 Influential People of Chhattisgarh" [13]
Listed among the "Top 10 Romantic Writers Site of India" March 2015
Nominated in Commonwealth Writers Association List, London, in 2012
Listed among "The Famous peoples of Chhattisgarh" on the survey of Quickgs.com
Honored in EMA Award as on 26th September 2015
Honored by Agra Vibhooti Puraskar as on 19th June 2016
Honored by Agra Gaurav Puraskar as on 1st October 2016
Elected as the "Brand Ambassador of Swatch Bharat Abhiyaan" Durg District as on 12th December 2016.
On 2017 he was also listed among "The top Industrial traders of Bhilai".
He owns the title of "Industry Expert" for the Board of Studies at the English Department of Mithibai College on 2018.
He is now selected as the "Representative of Bhilai City by PETA India".
In February 2020 he was honored with the "President's Style Icon Award" from Lions Club Bhilai. Dist- 3233 C.
He was Honored with the "District Governor Appreciation Award" by Lions Club International as on 1st November 2020.
He was awarded with the Best Secretary Award on 15th March 2021, by Region 6 of  District 3233 C of, Lions Club International
References
External links
Community content is available under
CC-BY-SA
unless otherwise noted.