South East Asia or Southeastern Asia is a subregion of Asia.
Location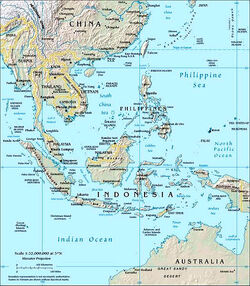 It consisting of the countries that are geographically south of China, east of India and north of Australia.

The region lies on the intersection of geological plates, with heavy seismic and volcanic activity.
South East Asia consists of two geographic regions: the Asian mainland, and island arcs and archipelagoes to the east and southeast. The mainland section consists of Cambodia, Laos, Myanmar, Thailand and Vietnam.
The adjacent map shows the areas mentioned above.
Population
The population of these regions are primarily Tai peoples and Austroasiatic peoples; The maritime section consists of Brunei, Indonesia, Malaysia, the Philippines and Singapore. Austronesian peoples predominate in this region;
Religion
The dominant religion is Islam, followed by Christianity.
Community content is available under
CC-BY-SA
unless otherwise noted.