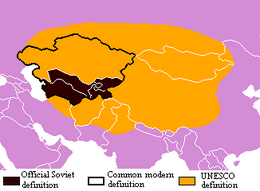 Central Asia is a vast landlocked region of Asia.
Definitions
Though various definitions of its exact composition exist, no one definition is universally accepted. Despite this uncertainty in defining borders, it does have some important overall characteristics. For one, Central Asia has historically been closely tied to its nomadic peoples and the Silk Road. As a result, it has acted as a crossroads for the movement of people, goods, and ideas between Europe, Western Asia, South Asia, and East Asia. It is also sometimes known as Middle Asia or Inner Asia, and is within the scope of the wider Eurasian continent.
Community content is available under
CC-BY-SA
unless otherwise noted.